The inaugural celebration features dining deals, sales and promotions, special events, contests and prizes
The West Vernor & Springwells Business Improvement District (BID) is kicking off summer with "Cinco de Mayo Week," beginning Tuesday, May 1 through Sunday, May 6. The week's festivities feature discounts and promotions by local businesses, special family-friendly events, and contests with prizes that are intended to increase foot traffic in Southwest Detroit while also raising awareness about one of city's most culturally diverse communities.
May 1 – 3: Restaurant Discounts
May 1 – 6: #CincoSWDet Enter to Win Murals
Fri., May 4: #CincoSWDet Taco Tour and Bar Crawl
Sat., May 5: Shopping Saturday
Sun., May 6: Parade, Family Fun
For a list of member businesses in the Southwest Detroit area, please click on the association links below.

Events Details:
May 1 – 3: Restaurant Discounts
West Vernor & Springwells BID and SDBA member restaurants will offer special discounts and promotions to customers who mention Cinco Week in Southwest Detroit to their servers, May 1 – 3, 2018. Choose from a wide selection of dining offerings, from traditional Mexican, Caribbean, Italian and American fare. Participation, discounts and promotions will vary.
May 1 – 6: #CincoSWDet Enter to Win Murals

#CincoSWDetroit Enters You To Win!
Beginning Tuesday, May 1 through Sunday, May 6, 2018, individuals who take a selfie in front of any of the community murals and/or public art identified in the list below, and post to Facebook, Instagram or Twitter using the hashtag #CincoSWDet, will get their name entered into a drawing to win a gift certificate to area businesses, restaurants and merchants. A total of 20 winners will be drawn on Tuesday, May 8, following the conclusion of
Cinco de Mayo Week
in Southwest Detroit. Participants can enter more than once, but are limited to one entry per community mural and public art location.
Fri., May 4: #CincoSWDet Taco Tour and Bar Crawl
On Friday, May 4, Cinco de Mayo Week adults (21+) are encouraged to take Taco Tour and Bar Crawl with bragging rights at stake for participating restaurants.
A Taco Tour & Bar Crawl featuring authentic Mexican restaurants located along W. Vernor Hwy. will start to round out festivities for the inaugural Cinco de Mayo Week in Southwest Detroit. On Friday, May 4 from 6 p.m. to Midnight, participants who follow the 7-stop restaurant tour can order from a large variety of authentic tacos, vote for their favorites and, in doing so, be entered to win gift certificates from local businesses.
Tour participants who post photos of their favorite tacos to Facebook, Twitter and Instagram using the hashtag #CincoSWDet will be entered to win. In addition to tacos, participants also can enjoy signature drinks, specialty margaritas and imported Mexican beers. There is no cost to participate in the tour. Each participant is responsible for costs associated with their food and beverage orders.
NOTE: This is a self-guided tour and there is absolutely no cost to participate. While we encourage you to visit all seven authentic Mexican restaurants and taquerias on the list, you can stop by as many or as few as you like. You also can start and stop where you choose. The only rule: have fun and enjoy!
The restaurant with the most votes will earn the title of Best Taco in Southwest Detroit for the inaugural Cinco de Mayo Week event. [MAP]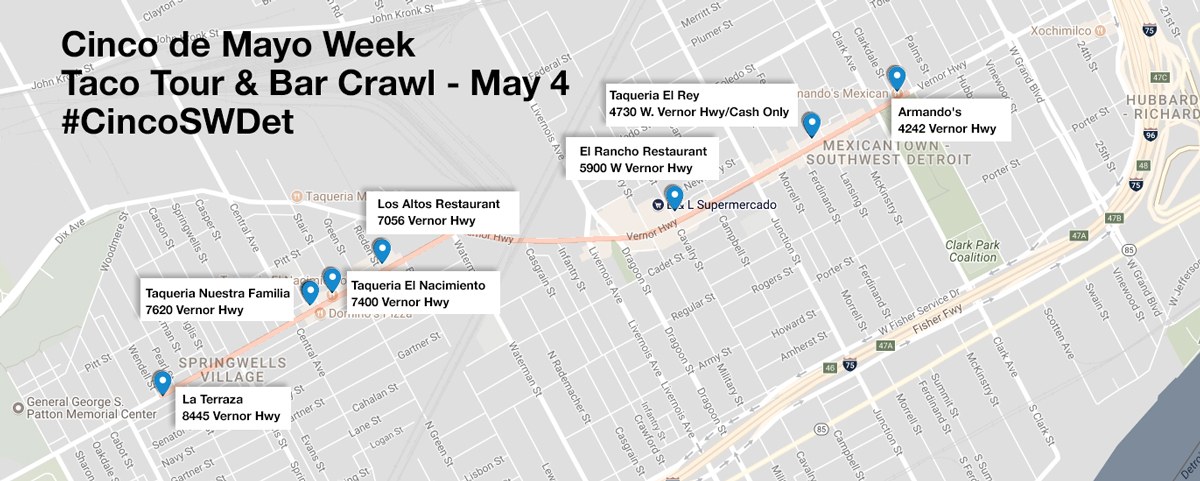 Sat., May 5: Shopping Saturday
On Saturday, May 5, the focus will be on the great savings and deals that can be found while shopping among the hundreds of participating local merchants, including mercados, bakeries, meat markets, and specialty stores. From freshly made tortillas and specialty cuts of seasoned meats to hand sewn dresses and high-quality, brand-name furniture, the Shopping Saturday focus will be on the great shopping options available in Southwest Detroit.
Sun., May 6: Parade, Family Fun
The 54th Annual Cinco de Mayo Parade will start at noon. The parade route is from from Patton Park (W. Vernor Hwy and Woodmere St.), and then east to Clark Park (W. Vernor Hwy & Scotten St.). Hosted by the Mexican Patriotic Committee of Metro Detroit, the parade will be led by the Detroit Police Department Equestrian Squad and the Western International High School ROTC.
More than 50 local organizations and businesses will participate in the parade, including:
American GI Forum
Girl Scouts of Southeastern Michigan
Southwest Solutions
Detroit Hispanic Development Corporation
Caesar Chavez Academy
Hope Academy
Southwest Detroit Lighthouse Charter Academy
La Terraza
La Tienda
La Rosita
State Farm Insurance
Michigan United and Michigan Spanish Speaking Democrats
Ballet Folklorico de Detroit
Raices Mexicanas
La Explosiva
Lo Mejor
The parade will be followed by the Cinco de Mayo Fiesta and Mercado at Clark Park, from 2 to 6 p.m., featuring live entertainment with special performances by the Center of Music & Performing Arts Southwest (COMPÁS), Ballet Folklórico De Detroit, Mariachi Femenil, DJ Luis, among others.
Family-friendly activities such as a bouncy house and slide, petting zoo, exotic petting zoo, kiddie train, clowns, face-painters and special characters can be found throughout the day.
Attendees also will enjoy cotton candy, hot dogs, snow cones, popcorn, nachos, juice, chips and water. All children's activities and food will be available FREE of charge. A traditional Mercado will be located in the Northwest Pavilion, featuring many local vendors such as Danto Furniture as well as multiple tables of hand-made goods from Latin American artisans.
The Cinco de Mayo Fiesta and Mercado is presented by Grahams Rainbows Blessing Hands and supported by local businesses, agencies, corporate sponsors and community partners, including the SDBA and the West Vernor & Springswells BID.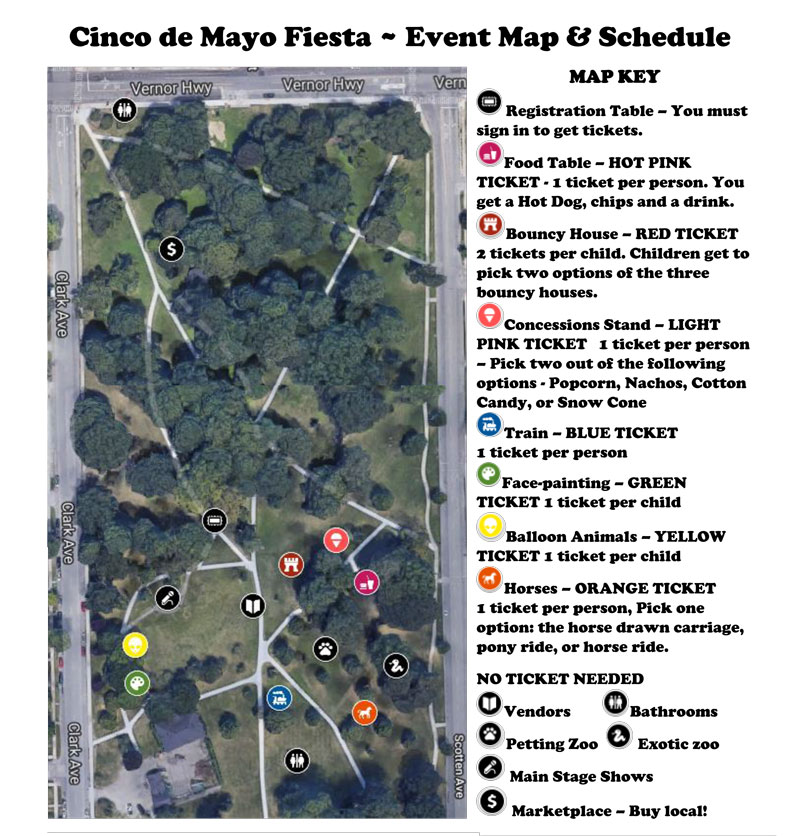 Last modified: May 3, 2018